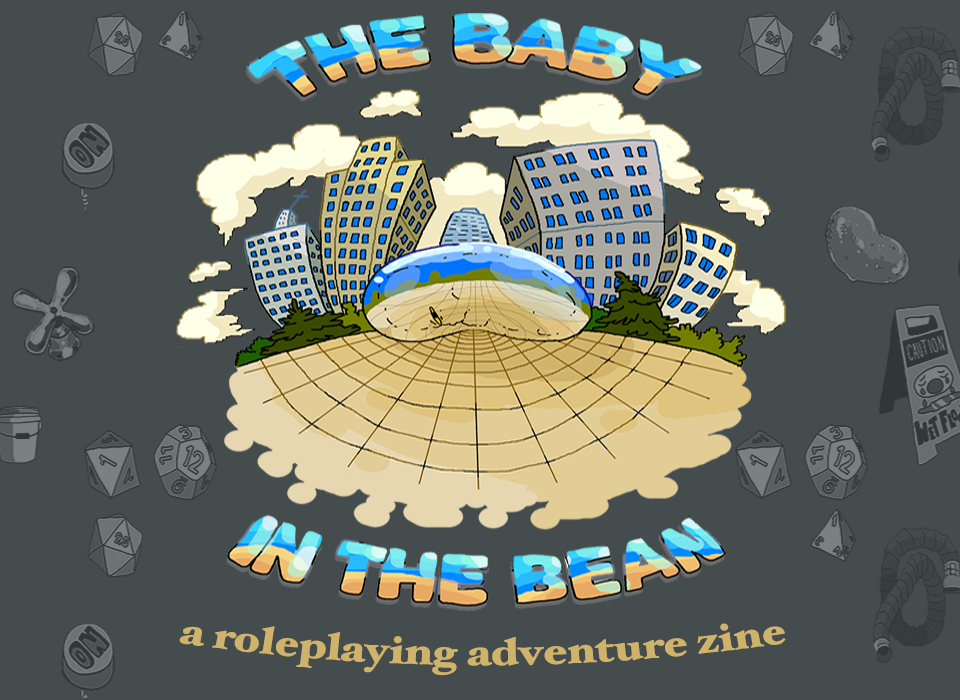 The Baby In The Bean
Explore a dystopian Millennium Park, solve surreal roleplaying puzzles, and survive a giant's tantrum in this surreal apocalyptic adventure.
THE BABY IN THE BEAN is a complete adventure designed to be compatible with your favorite TTRPG system - perfect for use as a one-shot, side-quest, or longterm campaign starter.
THE ADVENTURE:
After a mysterious performance artist smears vantablack on Chicago's famous legume-shaped landmark, a 12ft long baby arm explodes from the vandalized surface and brings the rapture with it.
In THE BABY IN THE BEAN you will:
create PEOPLE such as Teens, Vendors, or Office Workers on Lunch Breaks from PLACES such as Northside, Out of State, or the Greater Chicagoland Area.
turn your mundane and powerless humans into fundane and powerful heroes!!
pick a side in the artistic feud between artists Stuart Semple and Anish Kapoor as it leads to celestial ragnarok.
find a way to contain, destroy, or release (??) the mystical baby beast trapped inside the 33' x 66' chrome bean.
THE ZINE:
Inside this 68 page behemoth of a zine is:
illustrations by the talented Ash Barton
an optional dedicated system
grid maps
BONUS - Alternative Plot "Cloud Castle"
PHYSICAL COPIES FOUND HERE
DLC:
Made possible by the funding from Kickstarter's "ZineQuest 2".
Ambient Soundscapes for Millennium Park Locations!
Narrated Audiobook + 30mins of Designer Commentary!
CREDITS

Written by Niky Crawford

Art by Ash Barton
Layout by McKenzie Wilkes
Purchase
In order to download this adventure you must purchase it at or above the minimum price of $4.99 USD. You will get access to the following files:
The Baby In The Bean.pdf
16 MB
TBITB_Soundscapes.zip
145 MB
if you pay $9.99 USD or more
TBITB_Audiobook.zip
170 MB
if you pay $19.99 USD or more